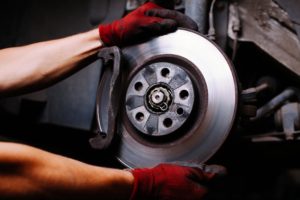 We need our brakes in order to stop properly. Rear ending someone is automatically your fault in Indiana.
Franklin Muffler, Brakes and More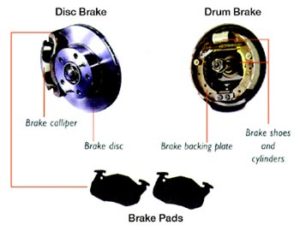 understands the safety of you and all your passengers. We offer a Free full brake inspection. We will inspect your brakes and show you what and why the repairs we find if any.  A basic brake job includes new pads, turning the rotors (if possible) and re pack the bearings.
---
Semi-Metallic Pads vs. Ceramic Pads
Semi-Metallic pad is the basic brake pad. It tends to leave more brake dust on your wheel and the occasional squeak, especially when wet or damp.
Ceramic Pads is a higher grade pad. It is cleaner on the wheel and quieter.
What happens if other fluid is accidentally put in the master cylinder? Your brake system is now contaminated and will need to be replaced. The rubber brake hoses will rot and break leaving you with no brakes.
We can handle up to 2 ton vehicles for brakes. No job is too small or too big.
Stop in and see us for a FREE Brake Inspection.